This is one cruise that I would repeat in a Chicago minute. The ship is gorgeous, cabins roomy, food sometimes excellent and service superb. Here are a few details...
Prior to embarkation: Cruise docs arrived about three weeks before sail date. They included baggage tags, immigration and customs forms, and a booklet describing the various excursions that would be available. We had made our own flight arrangements again and paid $78.00 over what the RCI's fly/sail program would have been. The best part about this is that we were able to choose our own departure times (no long layovers) and not have to fly to unusual airports (like Atlanta to Chicago to Miami).
Embarkation: Thirty minutes from airport to cabin. No long lines.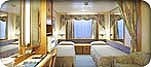 Cabin: We were originally assigned 3018, on deck 3 (A-deck), forward & port. When the docs arrived we found we had been moved to 3578, starboard, amidships...not really an upgrade, but more centrally located, which means a shorter distance to get places, and less rock 'n' rollin' at sea. The two twin beds were up against the walls with two small night stands and double window in between, but could be pushed together for a double. A small drapery set off the sleeping area, but was just for effect, as it did not pull across for privacy. The love seat and coffee table made a nice sitting area, and the mirror (cabinet doors on either side were also mirrored for three-way effect), dressing table, 2 closets and 11 drawers were very generous. There was also a large mirror beside one bed, and a full-length mirror in the sitting area. Valuables were stored in the card-operated safe, and luggage stored under the beds. The bathroom was large enough for two and had plenty of space for personal accessories in a cabinet with 3-way mirrors. The shower head was fully adjustable for height (great for kids) and direction, and could also be hand-held. The volume on the PA system was adjustable or could be turned off, and there were lots of TV stations with different subject matter. Air conditioning was more than adequate and easily controllable. Even though we were below the main floor of the Centrum, we could hear nothing from upstairs, hall or adjacent cabins.
Ship facilities: The ship is gorgeous...It's kind of a pleasant mix of contemporary and classic. I was particularly impressed with the Centrum. Here you can enjoy cocktails, a little casual dancing, figure out where you are (you can see all the levels to see what's going on where). There are little sitting areas tucked away on every level, most with a gorgeous ocean view.
Sun Deck: There were deck chairs in the sun almost everywhere, but not necessarily when I wanted one. The Solarium pool was a quiet place, more for lounging, enjoying the spa, eating (hamburgers and pizza were served there) and visiting. The main pool (with a retractable roof) was more for sunworshippers and pool activities. Here you could enjoy Ken Rush emcee-ing a bellyflop contest, race-horse auction, daily interviews and the like. There were also quite a few tables in the shade near the rail to just relax, or enjoy a meal from the adjacent Windjammer Cafe. The only thing I missed here is the open railing. This portion of the deck is glassed-in (although the windows do open) and you can't hear the sound of the waves.
Dining Room : The My Fair Lady Dining Room is a beautiful two-level room with a marvelous grand staircase. There is a nice variety of seating arrangements, happily arranged so that the service areas are not in the middle of a traffic pattern (that always bothered me). The breakfast menu was basically the same each day; the lunch menu varied. For dinner, a variety of appetizers, salads, soups, entrees and desserts were available. The food was very good and the service was excellent. We were fortunate to have Sergio from Portugal as our waiter. Sergio, his assistant, the wine steward and headwaiter Downtown Brown were extremely personable and efficient, and did not hesitate to satisfy a special request or two.
Windjammer Cafe: The view over the bow was outstanding in this more casual dining area. Meals were served buffet-style, but not like a cafeteria. It was served from a group of small free-standing tables, one table for each course. The food presentation was nice, but the only exits were through the doorways where the trays were handed out, and it was a bit congested.
Buffets: Gone are the traditional nightly Midnight Buffets we have enjoyed on other lines. They have been partly replaced by hot hors d'oeuvres which I heard about, but never saw. There were actually three buffets on this seven day cruise...in addition to the Captain's Gala Buffet (which was also open early for photo-ops only), there was also a Galley Buffet in the main dining room and a Millennium Party Buffet poolside. These other two were not very well publicized, and we missed them. As a second-seating gal I really can't enjoy another meal so soon, anyway. The other nights there were Midnight Delights in the Champagne Terrace and Casino Royale.
Lounges: One gem we did not discover until the end is The Viking Crown Lounge. A huge multi-purpose entertainment area with the most gorgeous panoramic views all around. We were up there at night when it's a disco, and missed the wonderful view. Try to go during the daytime for this marvelous experience.
Orpheum Theater: This is a huge two-level showroom with excellent views everywhere. We had second seating dinner and had plenty of time to get good seats for the main show. Overall, the entertainment was varied and professional.
Centrum Boutiques: There were several shops, for clothing and souvenirs, jewelry and pricey gift items, perfumes & cosmetics. Special sales were run each day, and toward the end of the cruise, there were plenty of moderately priced items for those last-minute purchases.
Casino Royale: Lots of slots and tables, but only one craps table. The high-rollers seemed to monopolize this table, but I managed to break in a couple of times. The room is configured such that you must navigate the whole room to get through it (and maybe stop at a table or machine along the way...clever), and this is the only way to get from the main floor of the Orpheum Theater to the Centrum.
Spa: In this two-level high-tech fitness center you can work out, enjoy a facial, massage or mudbath, or glamorize yourself in the full-service salon.
Excursions: There were 37 shore excursion options on the list, as well as St. John transfers and equipment rentals for CocoCay, but some of them went very fast. Prices ranged from $12 to $135 per person. Towels for all beach and water sports excursions are delivered to your cabin the prior night. Be sure to check them back in. American currency is welcome everywhere. Take small bills and change.
ATM: Located in the Centrum, it accepts MC, VISA, AMEX, HONOR, PLUS and CIRRUS cards. No need to worry about extra cash for excursions or tips.
Most enjoyable feature: Two consecutive days at sea (and one more later on).
Ship Activities: Each evening we received an extensive "Compass" listing all planned activities, meals, movies, etc. for the following day. They've changed the format, and now include a smaller version with just the activities, times and location listed. This folds up to the size of your SuperCharge Card and is more easily carried around. With three days at sea, there was plenty to do. In addition to volleyball, ping-pong, water games, golf and Friends of Bill W. meetings, the highlights were:

Monday: Tour & Travel Talk, Piano Melodies, Mr. Sexy Legs Contest, Wine Appreciation, Line Dance Class, Shopping Talk, Dance Music, Cash Prize Bingo.
Tuesday: Step Aerobics, Art Auction, Blackjack Tournament, Cash Prize Bingo, Horse Racing, Slot Tournament, Jewelry Seminar, Country Western.
Wednesday: Tour Ashore, Sidewalk Sale, Cash Prize Bingo, Not-So-Newlywed Game, Dance Music, Millennium Masquerade Party.
Thursday: Cash Prize Bingo, Honeymooner's Party, Social Dancing, Novel Quest, Sailaway Party, Rock 'n' Roll Reunion.
Friday: Cash Prize Bingo, Art Auction, Slot Tournament, Horse Racing Derby, Ice Carving Demo, Final Jackpot Bingo, Celebrity Show Time, The Liar's Club, Karaoke, Gala Buffet.
Saturday: Activities Ashore, Social Dancing, Jam Session, Farewell Disco Party, Final Art Auction, Guest Talent Show.
Movies on TV: Shown at various times, day and night, were: Message in a Bottle, Simon Birch, The Truman Show, Mighty Joe Young, Dance With Me, The Horse Whisperer, Star Trek; Insurrection, Firelight, Lethal Weapon 4, At First Sight, A Bug's Life, Enemy of the State, Beloved, Six Days Seven Nights, My Favorite Martian, Out of Sight, Mark of Zorro, and children's programming.
Staff: Our Cruise Director, Ken Rush, was available, energetic, versatile and personable. He's very talented and I think he will move up professionally before long.
Our cabin steward kept the cabin clean and stocked and stayed out of our way. Room service (we only ordered the breakfast) requests were delivered by another attendant (we tipped him daily).
Our waiter, Sergio from Portugal, was MAHVELOUS. He was professional and reserved the first day as he was trying to figure us out. When he became used to our joking around (I am always the target) he became much more relaxed. He absolutely made the dining experience the very best ever.
Passengers: Average age looked to be about 35-40. The ship was completely booked. I know there were children aboard, but we didn't run into too many. The kids we did see were well-behaved.
Motion: I really missed it. The stabilizers made the entire trip so smooth and comfortable, it almost felt as if the ship were not moving. There was a slight motion and a little humming that was just enough to rock you to sleep at night.
Disembarkation: The very well organized colored tag system moves passengers in shifts to avoid crowding. Those with early flights go first.

Travelogue

Day One--Departing Miami: When we arrived in Miami, we took a quick cab ride to the Port of Miami ($18.00 maximum per trip, by ordinance), checked in (passports, tickets, signed the charge card) and 10 minutes later boarded. We made a short stop at a table in the companionway to pick up our room keycards and SuperCharge cards, and went unescorted to find our cabin. Thirty minutes from airport to cabin, MAX.
Since our luggage had not yet arrived, we eagerly pored over the flyers and magazines and went out to explore the ship, then headed up to the Windjammer for our first taste of the Enchantment. The very first entree I found was an old favorite--poached salmon with dill sauce, served by a very charming man in a crisp white suit who may have been the Windjammer maitre d'. When I went back for seconds the man reacted as if I had paid him a personal compliment. Very nice for a first impression. We took a table at the bow with a remarkable view. The whole place is bright and airy and not at all crowded. Tables are cleared efficiently, and the waitstaff is courteous.
We found our friends, scoped out what was to be our favorite meeting place, and went back to the cabin to get our vests for the Muster Drill. It only took about 20 minutes for the crew to round up the stragglers. We missed the Sailaway Party (never even felt us leave the dock) while we were at the Enchantment Tonight show (pre-dinner for second-seating guests) where we met Ken Rush (Cruise Director), and were entertained by Mario D'Andrea and the Wave Revue Singers and Dancers.
We met our 6 friends in the My Fair Lady Dining Room and found our table for 8 to be very comfortably located on the main floor and out of the main traffic pattern. Sergio, our waiter, was very professional as he explained how the selections for the evening were prepared. We ordered a non-alcoholic wine with dinner, and the wine steward served it as if it were a fine selection from his own cellar. We skipped the Welcome Aboard Dance Party and tried our luck at the Casino Royale.
Day Two--At Sea: Our coffee, sweet rolls and croissants were delivered promptly as ordered the prior evening (I forgot about the tip, but he didn't seem to mind), allowing us to casually prepare for breakfast in the main dining room. After my usual Lox & Bagels, bananas & cream, we window-shopped at the Centrum Boutiques and met our friends at our special spot on the Sun Deck. We skipped the Tour & Travel talk because we knew it would be re-run on television. Jim was stuck at the Ping Pong tournament and missed his chance to win the "Mr. Sexy Legs" contest. His little bird-legs would certainly have taken that prize!
After lunch in the main dining room, we skipped the Art Auction and signed up for the next day's Slot Tournament (pay $20 and you get 5 minutes to rack up as many dollars as you can). We missed Line Dancing and more pool games. We came in to the Snowball Jackpot Bingo game too late, and they wouldn't sell us cards (we've always been able to buy just one card for the coverall if we were late). "Show me the money" Richie was a little juvenile in the way he called the numbers, and it grew rather irritating as the week progressed. (Nothing personal, Richie...we did like you elsewhere). I don't know if it was the fresh sea air or the constant activity, but every day about 4:00 we got really sleepy and retired to the cabin.
We skipped the formal portraits and the Captain's Welcome Aboard Cocktail Party (been there, done that) and took our time getting ready for the first formal "Welcome Aboard" dinner, a French theme. Sergio was a little less formal, having committed to memory who drinks what, who gets a plain iceberg lettuce salad (Jim needs to get out more) and who takes her sweet time ordering (me) and then orders two. He just about had us figured out. We lingered over dessert (also two) and missed the Battle of the Sexes :( but headed to the Orpheum Theater for the Sweetdreams Revue. We entered just before the curtain went up, but got wonderful seats. Actually, there are millions of seats and no bad sight-lines. We hung around the casino for awhile and went back to catch the late show, starring the comedian Rick Corso (funny guy).
Day Three--At Sea: Another steaming pot of coffee & pastries was delivered precisely on time. I remembered to leave a dollar handy for a tip this time. After another splendid breakfast in the main dining room, we opted to skip the blackjack tournament and art auction, and hung around the Sun Deck waiting for Diamond Bingo. This made us miss the Country Line Dancing, but finished in time for the Horse Racing and Auction by the pool. This is something Jim really likes to do every year. In the past, the horses were auctioned off reasonably, but these went for over $600 each, mostly because people pooled their money to buy them. These horses didn't race that day...the owners decorated them and carried them around everywhere all week until the race on Friday. Jim had brought his own crepe paper decorations, balloons and stuff, and we have a rule about packing...if you pack it, you use it. Well, since there was no horse to decorate... I'll tell you later.
We had lunch in the main dining room again, then hung around for the Slot Tournament. The tournament was rather boring because there were about 12 shifts of players and someone got a lot of money really early, and no one wanted to stand around and watch, unless it wasn't your turn yet. What really bugged me is that waiting for my turn, for which I had already played, made me miss the Gem & Jewelry Seminar, which I always attend. Oh well... We tried to win the Cash Prize Bingo (again) and when that failed, we went below for a nap.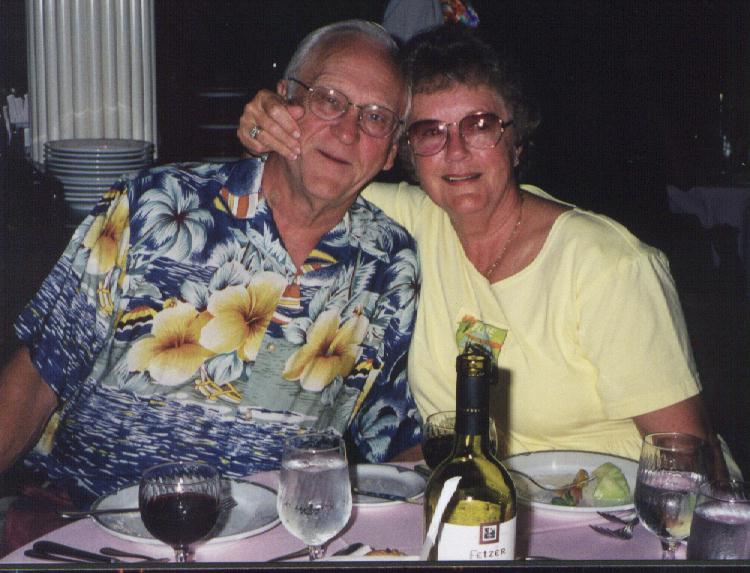 Dinner dress was Smart-Casual for the Italian Dinner, and we were welcomed by a smiling Sergio who held my chair and put my napkin in my lap (I had almost forgotten how nice those little touches can be). Sergio began to pick up our playful dinner moods. He planned to take my order last, so I would have more time to make up my mind. We lingered again over dessert and missed Majority Rules, but made it to song-and-dance man Tony Tillman's headliner show...an OK show, not great. We skipped the Country Line Dance Jamboree and went to the casino. I couldn't get close enough to the craps table, so I lost interest and went to bed.
Day Four--St. Martin: After breakfast we tendered in to Phillipsburg, Sint Maarten (Dutch side) where we caught up with our friends, picked out a few things to buy on the way back, stopped for a quick sandwich at a beachside cafe (Everyt'ing Cool?), and walked over to meet our tour group for the St. Maarten Snorkeling Adventure ($37 pp for a 3-hour trip). During the short ride out to the snorkeling site we were handed equipment and had a short talk about what we were about to do. We were in the beginners' group because we have a fraidy-cat in the family, and I thought he'd need me. Our guide was very helpful, teaching how to use the equipment, explaining the different things we were seeing down there, even picking up a starfish and letting us hold it... he was really good. We tired after about 30-45 minutes and went back aboard, had some punch and got some sun on the upper deck. It was not one of the most exciting trips we've taken, and we probably won't do it again. All coral looks the same after awhile. A storm surprised us on the way back to port, and it was pouring by the time we docked. The bad part was that we were unable to go back up the street to buy the stuff we had seen. Really great stuff, too. Oh well, another day, another port, another shopping area. We tendered back to the ship, and--yes, fell asleep.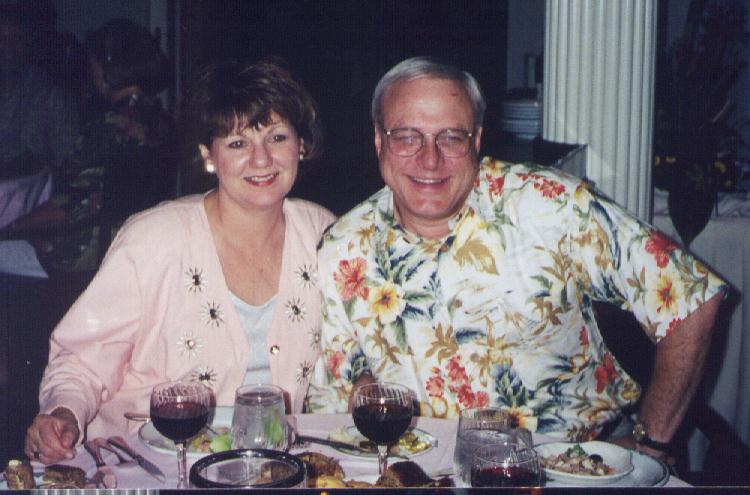 We missed the Sail-Away party but went to the pre-dinner Spotlight Cabaret starring the Magic & Grand Illusions of LaRaf. We sat directly behind a structure that was part of an illusion, and I swear... I have no idea how it's done. Dress for the Caribbean Dinner was casual, and so was Sergio. He was really getting to know us by then. Our friends were giving me a hard time about the way I ordered my food, and Sergio just joined right in! We got great seats for the Not-So-Newlywed Game (which we usually try out for) but the little thing you had to do to qualify was so embarrassing we chickened out. We had fun watching, though.
Day Five--St. John/St. Thomas: Rather than getting up early to catch the view of St. John as we dropped off some passengers, we opted to wait until the coffee came, then proceeded with breakfast as usual. We docked in Charlotte Amalie, near Havensight Mall instead of downtown, as in the past. We walked a short distance to the tram up to Paradise Point and rode up to the top. Here we enjoyed a breathtaking view of St. Thomas harbor.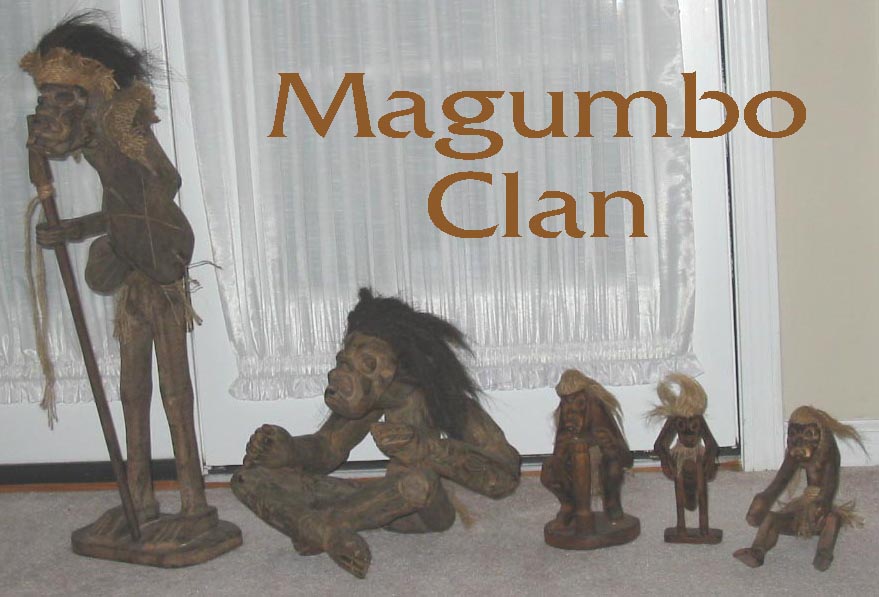 There were a few shops on two levels, and a snack shop. There's a lady with some trained (?) tropical birds up there. Take my advice and don't try to take a picture...she demands $10 each. Her little demonstration lasted about 5 minutes and her attitude was rather nasty. We found the ugliest wood carving we've ever seen and had to have it. It's name was Wild Man but we call him Magumbo. It looks like some kind of tribal warrior or something. We walked through Havensight Mall some and found a few trinkets, then ran out of time. I hurried back to the ship in time for Cash Prize Bingo (the pot was getting bigger as I grew more frustrated).
The "America the Beautiful" dinner was casual that night (a relief for those of us with nasty sunburns) and Sergio was even more fun. The main show was the Wave Revue Production of Flashback (a fun look at the 50s-90s), with guest star Rick Corso. We skipped the Rock 'n' Roll Party and went to bed.
Day Six--At Sea: Our last full day at sea started off in the usual manner (why can't I get this service at home?). We joined our friends in the Schooner Bar for Team Trivia, which we lost, but had a great time anyway. Then Jackpot Snowball Bingo got another $58 for nothin'. My girlfriend and I found chaises by the pool and got an hour or so of sun, then had lunch (I think we got food from the Windjammer that day), then watched the Enchantment Derby. It wasn't nearly as much fun as if we had owned a horse. Our friends watched the ice carving demonstration, and we...you know...took a nap.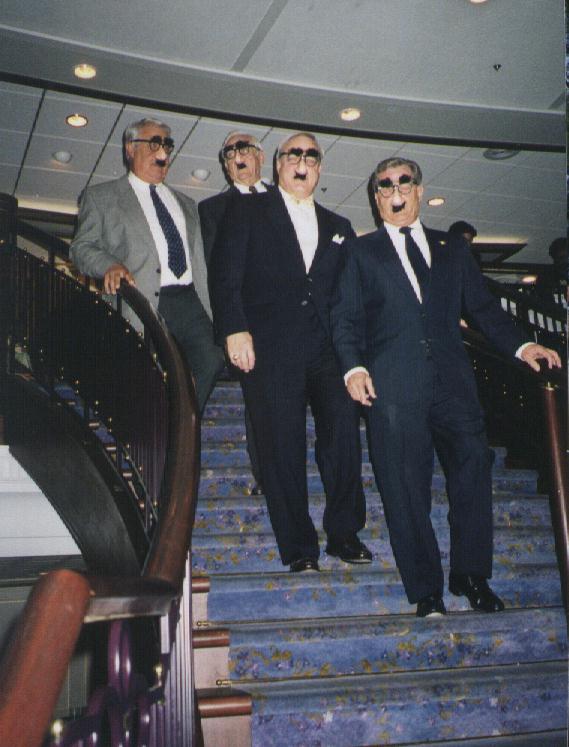 The Captain's Gala Dinner was formal, service was a riot ! After everyone was seated, the guys left, went upstairs, and made their "Grand Entrance" down the grand staircase, wearing some of the horse decorations that we didn't use at the Enchantment Derby. Remember the rule? If you pack it, you wear it. Our friends were still teasing me about my orders, and now Sergio was really having fun. This time he ignored me, pretended I wasn't there, walked right by leaving me with my mouth agape, wondering if I was gonna starve! He came back later, said "just kidding" and took my order. We laughed and laughed. He was such a relief from those rigid formal snooty waiters. That would have been a giant yawn. After the Headliner Show (singer Marlise and Comedian/Impressionist Paul Boland) we were too tired (and too full) to try the Gala Buffet. I heard it was beautiful and tasty, but who could eat?
Day Seven--CocoCay: Coffee and croissants, lox and bagels...blah, blah, blah. After breakfast we tendered in to CocoCay, which is one of RCI's private islands. Here's where we had the most fun. CocoCay is a lovely little private island where there is a small local shopping area and lots of little private and public places to relax in (the water was gorgeous). If you want a mat to float on, you need to reserve it way ahead of time (wish we had). The supply is limited, and this is a popular activity. You can relax in a hammock or play volleyball, or whatever. We had a very nice bar-b-que lunch served buffet-style outdoors near covered wooden picnic tables (watch out for the birds...they're hungry and aggressive !). We wandered around for awhile and went over to the WaveRunner shack for our reservations ($85 per couple, 1-hour tour). This is SO FUN ! We watched a safety instruction video for 10 minutes and had 50 minutes in the water (two to a vehicle), following the guide around deserted islands and coves and went out to buzz the Enchantment! From now on we're going to see which islands have these for rent, and plan the cruise around them! We sat around in the shade, had a few virgin RumRunners and made our way back to the tender dock.
Once back on board, we showered, slept and met our friends at our special place. It still amazes me that we were able to get the same table every day! We didn't save it or anything, it was just there for us! The Farewell Dinner (International Cuisine) was casual, again. I was afraid to order. I just sat there, pouting. Sergio passed me by again, then surprised me with all the appetizers, two entrees and all the desserts. I guess I was just too much trouble with my "two of everything" orders. As waiters go, Sergio was the very best! He was professional (within reason), competent, articulate, funny and we all hated for this last dinner to end. If I am lucky enough to sail the Enchantment again, I will definitely request his service. After dinner, the Enchantment Farewell Show recapped the cruise for us in a funny and entertaining way.
Debarkation morning: After a full breakfast, we all very comfortably awaited our color call in the Schooner Bar. As long as everybody had vacated their cabins, the guys took themselves on an unauthorized tour of the pricey cabins (does this mean we might move up a cat or two next year?) After about 45 minutes, our color was called, we went into the luggage warehouse and found ours right away, grabbed a porter (be quick and aggressive about it) and a cab and were on our way to the airport inside of 10 minutes. I don't even remember if we passed through a customs area...it was that fast. The rest was easy.
It's really a shame it will be another year 'til the next one. I loved the ship, the cabin, the service...if I could, I would take this particular cruise again, maybe the Western Itinerary next time. The whole package was as close to perfect as you could get. My advice? Book it.