Ship:

HAL ms Noordam

Date:

April 4-14, 2010

Itinerary:






Southern Caribbean, RT from Ft. Lauderdale: Phillipsburg, Sint Maarten; Castries/Soufrière, St. Lucia; Bridgetown, Barbados; Fort-d-France, Martinique; St. Thomas, U.S. Virgin Islands; Half Moon Cay, Bahamas

About Us

This was the 27th cruise for Jim and I, having cruised on Seawind, RCI x 5, Celebrity, NCL, Princess, Carnival, and HAL's Westerdam x 2 (old), Noordam (old), Zaandam, Maasdam, and our beloved Zuiderdam x 11. We are in our 60s and for us our destination is the ship itself. Many times we say we'll leave the ship to explore a new port, but we often don't. We generally eat, sleep, eat, gamble, sleep, eat, gamble, repeat. This adequately describes our Noordam cruise.


Pre-Cruise

Avoiding the stress of missed connections when flying in on Embarkation Day, we arrived in Ft. Lauderdale a day before and stayed at the Hilton Marina on 17th. We had a nice stay last year, but this year we found it cold and impersonable. They have changed the checkin procedure so that more people get tips. Now after you tip your driver, you tip someone to take your bags to another porter who gets a tip to take them to your room. We had a mini-suite with a view of the Marina and pool from the balcony. The access door lock was broken, and after several attempts to fix it, the Manager offered us drink coupons to enjoy while Maintenance did some noisy work. We don't drink, so we had some fruit juice and gave the other coupons away to someone who could actually enjoy them. We asked for a different room, but apparantly the hotel was full, and this was the best they could do. I booked a smoking room, but at checkin they said it was a smoke-free hotel, but would send an ashtray to our room. Actually, we asked FOUR different people for an ashtray and got four promises, but no ashtray. We had to appropriate one from the pool area. Although the suite had a lovely spa shower, what we needed was a soak, and we're not hottub people, so this was a drawback. In the morning we splurged for the Sunday Buffet, which was the highlight of our stay. After two more unnecessary tips, we were outta there, never to return.


Embarkation

Embarkation was a breeze! We arrived at Pier 19 at about 12:30, seeing maybe 300 cruisers in the serpentine line to check in. We proceeded to the Suite Line for our Stateroom Keycard and Deck Plans, and 15 minutes later we were aboard the Noordam. We went straight to the Neptune Lounge and had some snacks before making our way to our cabin.

Among the usual gift cards, invitations and brochures we found a bottle of Fré Champagne and a beautiful arrangement of roses from the Hotel Manager, Mark Pells. Later in the cruise, as the roses began to nod a little (you can't water them with the desalinated water), they were replaced with an even more beautiful arrangement of roses and lillies. Our luggage began to arrive shortly after we did, and we were nearly unpacked by the time the safety drill began. HAL has thankfully switched over to a non-lifejacket drill, eliminating the safety hazard from people dragging the jacket straps up and down the stairs. During the drill there is a detailed demonstration of how to wear the jacket, and a similar demo is run on TV throughout the cruise. After the drill I donned my ZuiderPrincess crown and made the rounds of the various bars in search of my CruiseCritic group.

That evening we attended a cocktail party in the Neptune Lounge where we met Captain John Scott and Hotel Manager Mark Pells, and other officers and staff. We enjoyed lovely hors d'oeuvres and juice (champagne for others) and wandered down to the Vista Dining Room for our first of many dinners.


Cabin

Located just forward of the aft elevators, Suite SA-7085 on the Rotterdam Deck was a huge (510 total square feet); a generous room, spacious veranda with two chairs and ottomans and a little dining table and 4 small chairs. Plenty for two. The bathroom had a jacuzzi tub, separate shower and double sink with two corner medicine cabinets and storage shelf below. A variety of Elemis products was provided, and refilled daily as we used or stashed them. There was also an umbrella, laundry basket (service is free in full suites) and 2 fluffy cotton robes and slippers. The dressing room had a built-in dressing table with 3 drawers, hair dryer and lighted magnifying makeup mirror (1x/5x), 3 closets with mirrored doors and a safe (3 more closets are in the hall by the door). In the sitting area were a large couch, two occasional chairs and coffee table, desk with flat screen TV, cooler with loaded minibar and CD/DVD player, binoculars, 2 telephones with voice mail and wake-up service, and a wall of mirrors behind the bed, making the room look much larger. True to HAL's Signature of Excellence program, the bedding and linens are undeniably top of the line! This explained why we slept so much.


Dining

We were confirmed for As You Wish dining, but were assigned a late seating, upper level table for six by an aft window. The first night we were the only diners, so we invited a couple who were also sitting alone at a big table to join us. Frank and Marilyn from Texas were a delightful couple who shared our love of cruising and general laid-back cruising style. As no one else ever showed up at our table, and except for occasional trips to the Pinnacle, Frank and Marilyn became our permanent tablemates. We found the service to be excellent and the food very good. I wonder, though, with so many cruisers complaining they could not get Traditional Seating, why were there so many empty - completely empty - tables? For the entire cruise?


Ship Facilities

Much like her sister Zuidy, the Noordam is really quite comfortable and well maintained. While the deck plans are essentially the same, there are a few exceptions. The Explorations Cafe is still located on deck 3, and the Oak Room is still intact near the Crow's Nest.

Culinary Arts Center: This is the primary function of the Queen's Lounge, and I must say it's about time they found something outstanding for this formerly nearly vacant room. You'll find lots of demonstrations (some of them hands-on) of food preparation and serving (including some items friom the Pinnacle Grill), wine tasting, mixology, napkin folding, flower arranging, and fun stuff like cooking trivia and a Celebrity Cook-Off... there's something new every day.

Greenhouse Spa: A great variety of indulgences and therapies are offered by Steiner, and the Salon offers services for hair, nails and waxing. The Hydropool has the typical jacuzzi jets, only much more powerful, and a metal kind of rack that you can lie on and the whole thing vibrates... so relaxing! In the Thermal Suite, I head for the Euclayptus Steam, which really clears your head while it forces all those nasty 'toxins' out of your body. Follow that with a nap on the heated tile chaises and you're in heaven.We purchased a 10-day pass to the Thermal Suite and HydroPool, $199 for both of us. We should have just bought daily passes, because we only used it twice. Jim bought a 10-20-30 package and had two massages, but when it came time for his facial he wasn't feeling well, so they let me take his treatment at the 30% discount. After I told her what Elemis products I already use, and the facial was finished, my Esthetist kindly calculated how much I needed to spend to treat my face properly for the next six months. I thought $1,834 would almost pay for a 7-night cruise, so I declined, buying only one cream I was running out of anyway. A few days later, as I desperately needed a haircut, Salon Manager +Melisza created a masterpiece.

Showroom: CD Mike Connachan hosted a number of stage productions nicely performed by the Noordam Singers & Dancers; "Opening Night", "If Walls Could Rock", "Ballroom Blitz", "Simply Broadway", and "That's Vegas". Sax Sensation Craig Richard, comedians Mark Eddie and Kevin Jordan, and vocalist Tony Cherry not only performed individually, but reprised their acts on the final evening.

Digital Workshop - New to HAL, this program will take you through your digital photography adventure from taking the actual photo to editing, enhancing, emailing, posting it on the web or burning a disk.

Casino: I love the energy of the casino... the smoke, noise, shuffling of cards, cheering when the dealer says, "Winner, winner - chicken dinner!" One thing I miss is the sound of coins being released into a paper tub. Now that HAL is making the transition to electronic everything, some of the room's cachet is gone. Even the poker table is electronic, and has been banished to a dark corner of the Sports Bar... so sad. The Casino seemed to be underutilized until the evening show let out. Daytime found few players and many tables closed. They did, however, offer the usual tournament fare; Texas Hold'Em, Blackjack, Slots, and had a festive Caribbean Night where they provided prizes.

Movies: The Queen's Lounge offered (complete with complimentary popcorn) "Up in the Air", "The Blind Side", "All About Steve", "The Young Victoria", "Old Dogs", "The Spy Next Door", Sherlock Holmes", "Nine", Pirate Radio" and in the Vista Lounge, "Imaginarium of Doctor Parnassus".

Shopping: The Signature Shops offered a reasonable variety of gift items, cruisewear and logo items, cigarettes, alcohol and cosmetics. They offered the usual Liquor Tasting, Watch Extravaganza, $10 Deck Sale, Swarovski Crystal, Taste of the Caribbean (rum and rum cakes), Venetian and Roman glass in sterling silver jewelry, Rock Candy (custom designed glass and leather jewelry), World Amber Event (including a 'spot the fake' contest), Caribbean Topaz Raffle, Watch Sets, Sea Glass ornaments, and the famous Deck Sale.

Art Auction: This has thankfully been taken over by British American Auctions, who quietly hold their auctions without inundating passengers with flyers and announcements. I haven't talked to anyone who may have attended, so we'll have to see what other critics say about that.

Night Life: Music, whether the dancing or listening sort, was offered in the Explorer's Lounge (Adagio Strings), Crow's Nest (Gary T'To, Kat & the HALCats), Northern Lights Nightclub (DJ Troy), OceanBar (The Neptunes), and the Piano Bar (Lee Strubeck).


Excursions

This is my stock advice. I print it with every review. If you haven't already booked online, when you arrive at your cabin you will find a Shore Excursions brochure listing the various activities available shoreside. You may fill out the order form at your leisure and deposit it in the Express Drop Box at the Shore Excursions Desk. Please keep in mind that the most popular trips sell out very fast. If you are traveling with friends and want to go together, put all the tickets on one room card.

One time we ordered separately and one couple got the tickets and one couple didn't .


Most Importantly...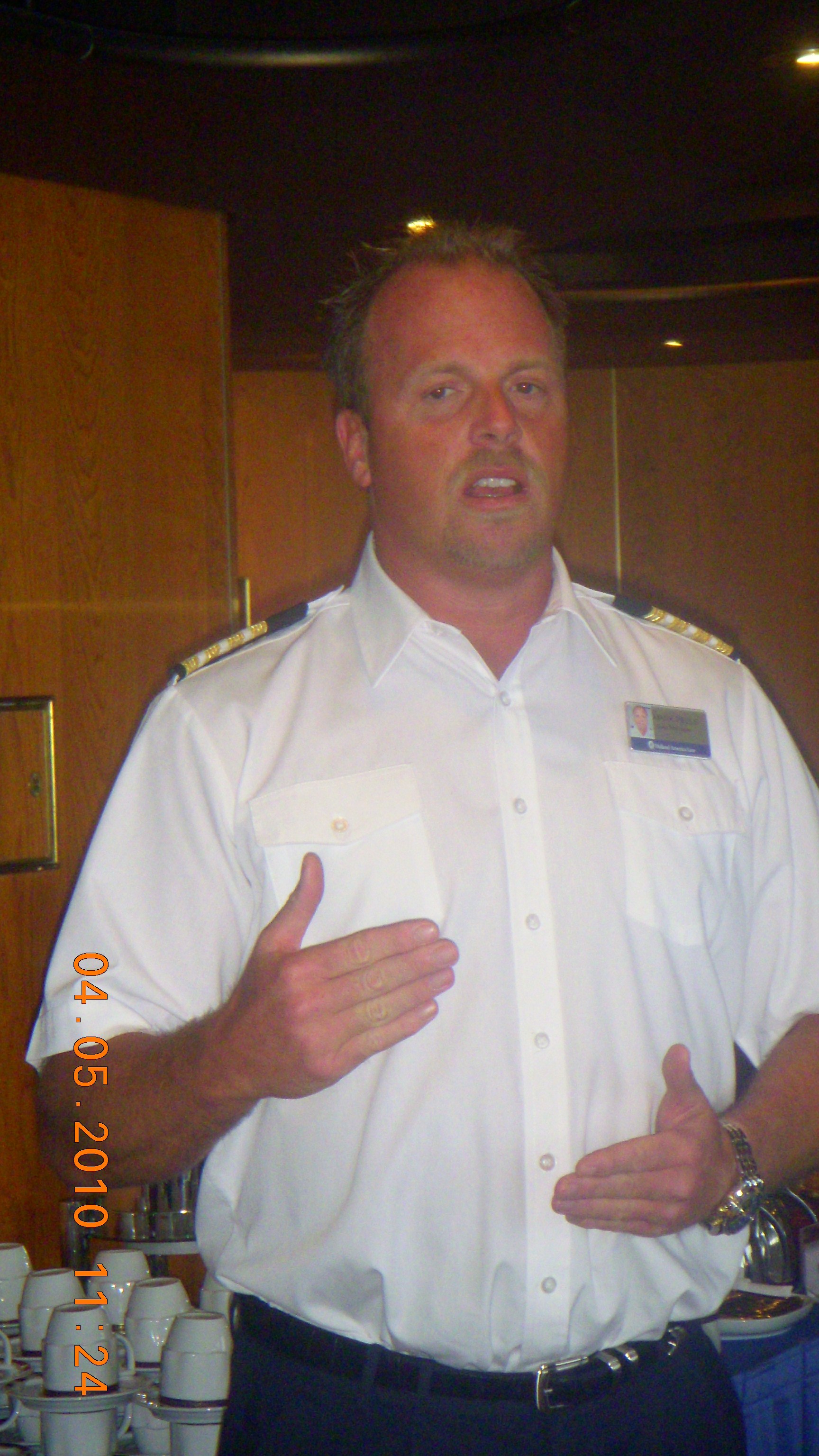 Considering Jim and I didn't DO anything, this ten days on the Noordam was a wonderful experience. We found the officers (particularly Hotel Manager Mark Pells and Captain John Scott), staff (especially Cruise Director Mike Connachan and his lovely wife, Future Cruise Consultant Leah) and Beverage Manager Hans Becker, who meticulously coordinated our CruiseCritic Meet 'n' Greet. The public areas were gleaming, and the floral arrangements we found throughout the ship were gorgeous. We found the food and service in the Vista Dining Room to be excellent and enjoyed the comfortable seating and prompt attention to our requests.
I'd absolutely recommend the Noordam for anyone desiring a laid-back, relaxing cruise with plenty of adventures as options. Because of their consistency of service and understated luxury, Holland America Line is our cruise line of choice.