Welcome!
Welcome to the Rochester Boardgaming Society. Allow us to give you an overview of who we are, what we are about, when and where we meet, why we play, and how to join. If you are looking for more detailed information, feel free to email our group's moderator. You can also join our Yahoo group to participate in our discussions. Please direct all comments and suggestions about this site to its author.

About the Rochester Boardgaming Society
The Rochester Boardgaming Society is a diverse group of individuals from all walks of life that share a deep interest in the spirit, challenge, and camaraderie found in boardgaming. Originally created as a way to find new opponents, the group has evolved into a larger group that meets on the third Saturday of each month at Millennium Games in Henrietta NY.
The store sells a wide variety of games and allows players to use the gaming tables free of charge.
Food and drink are allowed in the gaming areas, but we ask individuals to please be respectful of the games and keep such items well away from the components. Many of the games that members bring to the meets are long out of print, and can not be replaced if damaged.
We also ask visitors to respect the premises and keep them as clean and neat as you find them on arrival.
Millennium Games and Hobbies
3047 West Henrietta Road
Rochester, NY 14624
Phone: (585) 427-2190
Hours:
Monday - Saturday: 10am - 10pm
Sunday: 11am - 8pm

Games People Play
Our group has no dues, and our current membership numbers 169, with most meets seeing between 30 and 50 participants. The members (or RochGamers as they are sometimes called) play a wide variety of games; from card games, to Eurogames, to family-oriented boardgames, to more traditional strategic wargames.
We are always looking for new opponents to challenge us, so come on and join us at our next meet.
What's a Eurogame?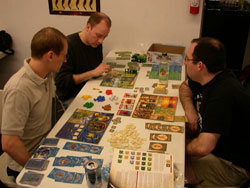 Some of you who are new to gaming or just getting back into the hobby might be wondering about that question.
The term 'Eurogame' is used to describe a game that tends to be more abstract in theme and more family oriented. These games are typically not sold in the retail mass-market stores, but through specialty shops (like Millennium) instead.
Many of these games were developed in Europe (mainly in Germany), and are originally written in foreign languages. That does not detract from them in any way, however, as US publishers will usually include English text on the components and rules.
Eurogames, or 'Euros' for short, usually have a fixed ending point, and usually take 1-2 hours to play (some play in as little as 15 to 30 minutes!). Some of these games also include mechanisms to keep you involved in the game when it is not your turn (such as trading, negotiating, etc) - the result is more involvement and less down-time during play. Luck is a much lower factor in many of these types of games as well, and most don't have much in the way of random generation like dice.